By now the SWH has rented 3 apartments in the house at Westanlage 46. After we have been able to rent the apartment on the first floor on 01.04.1988 another apartment became available on 01.12.1998 and finally another one on 01.04.2001.
The apartments' location is very close to the city center – less than 5 minutes to market place and to all relevant bus stops. For everyone who enjoys a rural and silent environment, this house is rather suboptimal.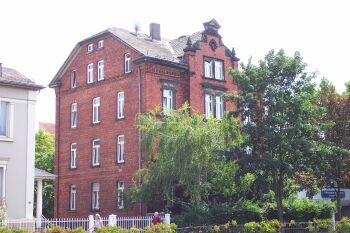 In each of the three shared flats live 4 people in a living space of 110, 112 and 115 square meters. It is a beautiful old building. All apartments consist of 4 bedrooms for the inhabitants, one kitchen, one bathroom, one water closet, one living room and one basement room.
One super modern, energy saving washing machine is available in the washing room and can be used by any member of the three shared flats and is financed via the ecology fund. SWH has rented the shared flats from a mid aged couple. The association sees it's role in this tenancy as stakeholder of the shared flats while at the same time guaranteeing the landlord the safety of a reliable and continuous contact and legal partner.